Game changing innovation solving our Customers' needs.
Carbon Neutral by 2040 and Net Zero Emissions by 2050
Euro standard vehicles in the UK 
Electric and Hybrid vehicles in the UK
Renewable energy from UK HQ facility
Solar panels at our UK HQ facility 
Electric vehicles in South Africa
Renewable energy through Solar electricity. We have 210 solar panels on our head office and plans to increase this across all branches.
Automating our customers' carbon emissions reporting
Automating our customers' carbon emissions reporting through an online portal, offering in depth, accurate calculations from our Customer's DC through to Final Mile Delivery.
Tree Planting Project in Ghana to restore the natural landscape, habitats, offer jobs for local villagers, space for farmers to plant their crops and to offset our emissions
Hybrid and Electrical Vehicles
Renewal of our UK fleet to include hybrid and electric vehicles.
Working with sustainable airlines
Working with more sustainable airlines who have strong ambitions to become net zero and who are part of groups that are investing in sustainable aviation fuel.
The courier and logistics industry has rapidly evolved and innovated in recent years, with advancements in technology and changing consumer demands driving much of the transformation. Here are some examples of Innovations that SkyNet has introduced recently to address the demands by our Customers.
SkyNet recognises that change is inevitable. Obsoletion cycles have reduced from decades to weeks, sometimes in an environment driven by fast-paced technology, AI and an evolving workforce with habits and behaviours that differ vastly from those of generations prior.   
The temptation to be comfortable with winning formulas of yesteryear is real and must be avoided. As such, SkyNet has invested into remaining at the cutting edge of new logistics with the creation of the SkyNet Innovation Lab. Headed up by Eugene Swanepoel with more than 20 years' experience in the Courier Express Parcel industry and ably assisted by Jaco De Freitas Branco in Africa and Etienne Du Toit in the UK and European markets.  
Part of their approach is enabling the SkyNet business units in the various countries to adopt new technology in creating differentiators in their respective markets. Not only does this provide innovative solutions for our customers but it creates a culture of innovation that translates across international boundaries and has become a golden thread around which our corporate culture revolves. Ideas and projects are incubated within the innovation lab until they reach a point of maturity sufficient enough to be handed to the SkyNet business unit, or to indeed become a business unit on their own.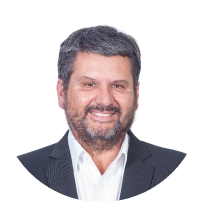 Eugene Swanepoel
Executive - Innovation Lab (South Africa)

Eugene more than 20 years' experience in the Courier Express Parcel industry, fulfilling various leadership roles ranging from subject specific to general management. Eugene's true passion however is seeing innovative ideas come to fruition. "New ideas are plenty, but without realisation they remain just that, an idea."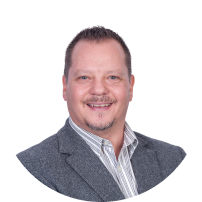 Jaco De Freitas Branco
Project Specialist - (South Africa)

Jaco is a highly experienced financial executive professional with over 20 years industry experience in various financial, operational, supply chain and management roles in the courier and freight industry. Jaco's proven track record in successfully steering projects makes him the ideal team member to have in the Innovation Lab.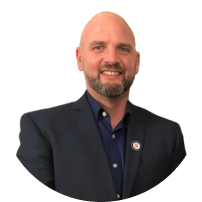 Etienne du Toit
Due Diligence Specialist (United Kingdom)

With more than 25 years' experience in various roles in the logistics industry, Etienne's experience in leading turn-around strategies, increasing profitability, creating value, and rationalising costs makes him the ideal candidate to support the business in its ongoing growth and expansion strategy.


Simplified VAT and Duty Payments for eCommerce
(South Africa and United Kingdom)
Our recently launched partnership with Eurora Solutions enables SkyNet to offer eCommerce retailers a streamlined solution to comply with customs and import regulations, making international trade simpler and more efficient.
This solution provides for the translation of product descriptions into legally required Harmonised System (HS) codes, allowing e-tailers to provide their consumers with full visibility of traditionally hidden VAT & Duty costs at initial check out.  Alternatively, e-tailers have the option to separate the transaction, followed by a later communication providing consumers with the value as well as a link to make payment and upload secure document. The advantage of this is that all outstanding funds can be collected prior to releasing a package before incurring expensive international shipping costs.
Once the shipment has arrived in the country of delivery, there are no untimely custom delays but a simple pre-clearance and delivery process. With over 5,000 HS codes, accurate allocation is essential to avoid incorrect duties and taxes and potential fines from authorities, a service quickly and seamlessly enabled by Eurora's AI engine.
Post Brexit, SME's in the UK require a valid IOSS (Import One Stop Shop) accreditation to have access to Europe through a single distribution point.  Through our partnership with Eurora, SkyNet enables SME's to have access once again to the European markets by providing them with IOSS codes required to facilitate the reconciliation and payment of VAT with the EU. 
Find out how SkyNet can help you solve your international vat and duty reconciliation and payments.  
Droppa On-Demand Services
Droppa is an on-demand transport service that makes it easier and safer to transport parcels, goods and furniture. It provides consumers mobile access to the courier world, focussing on a seamless user experience. Using mobile devices, consumers can now collect and deliver packages within minutes rather than days, enjoying full visibility of the entire process including live coverage of the vehicle being deployed.  
Droppa has focused on the premium end of the on-demand services, disrupting the traditional Same Day courier offering. Dedicated vehicle and driver solutions to satisfy quick or scheduled needs in the parcel industry were expanded to include tailored solutions for the construction, furniture delivery and vehicle rental markets. This has started as an African solution that will be scaled internationally in due course. To try it out, why don't you download the Droppa app from your local app store or visit www.droppa.co.za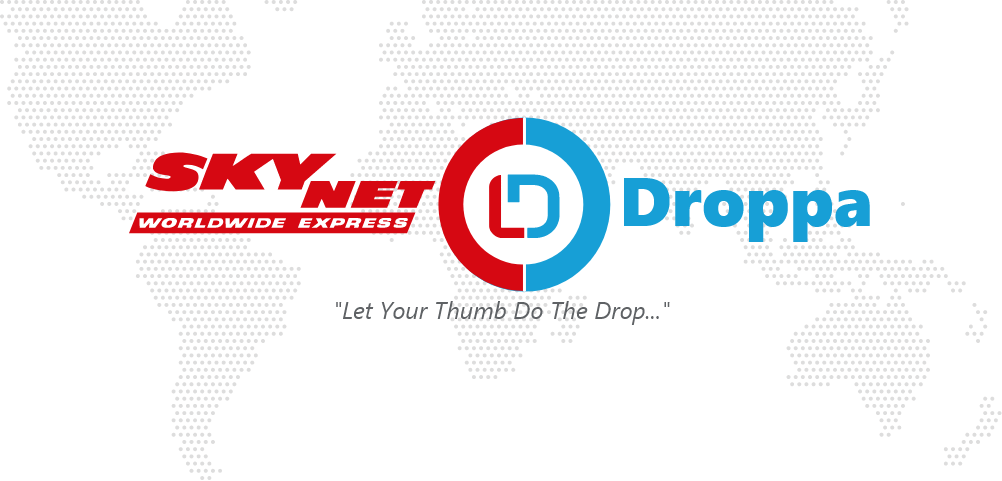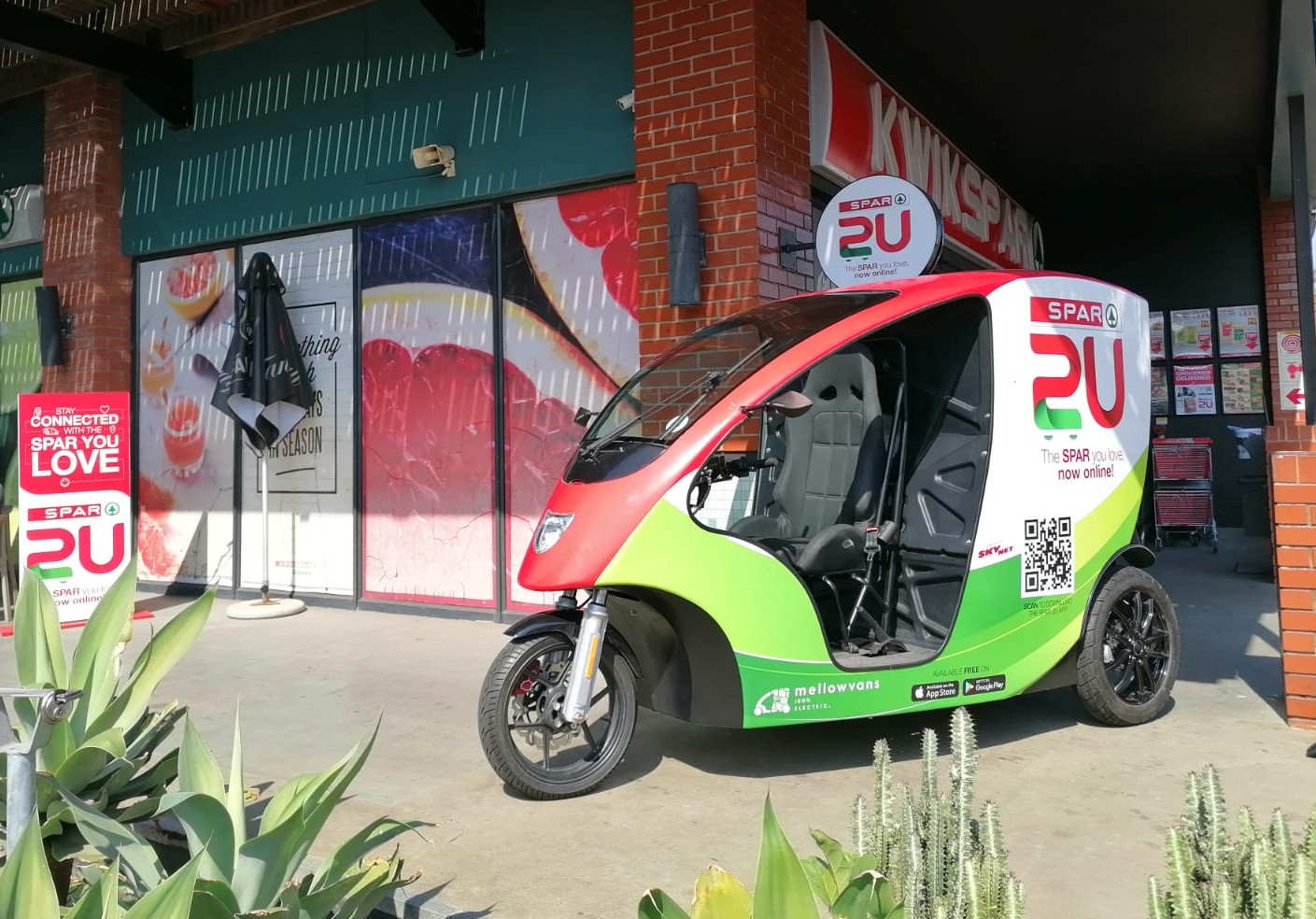 Quick Delivery (Spar2U Grocery Deliveries)
How shopping has changed! No longer do we need to face traffic, look for parking and fight fellow shoppers amongst narrow aisles! From the comfort of our own homes, we can access the Spar2U application and have our groceries or evening glass of wine, delivered to our front door at a time suitable to us. Both SPAR and Tops are available as online shopping outlets.  By the end of May 2023 this offering will be available at over 300 stores and will continue to grow throughout the rest of the year.   
SkyNet will be embracing a green solution in transitioning our entire SPAR2U fleet to fully electric vehicles.  Not only do we truly believe it is the right thing to do for our environment, but we further want to be part of the growing community that believe the electric vehicle movement will become the operational and cost model of choice.  
Say goodbye to expensive return charges.  Skynet's Hold and Call service offers you the convenience of returning your goods prior to despatch, avoiding any extra customs fees should the receiver change their mind upon arrival.   With us, you can rest assured that you won't have to deal with any customs problems as we take care of all the necessary paperwork and procedures for you prior to despatch. 
We also offer you the ability to provide your goods back into stock within 24 hours of return confirmation so you can keep your business running smoothly without any interruptions and with all communication to the consignee provided by SkyNet.  You can be sure that your customers will be kept informed during every step of the process.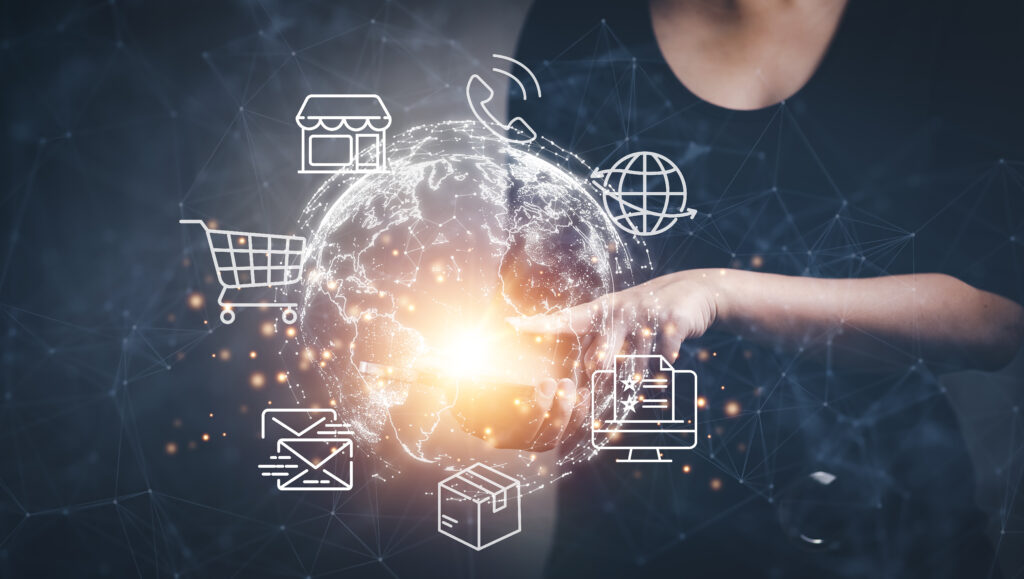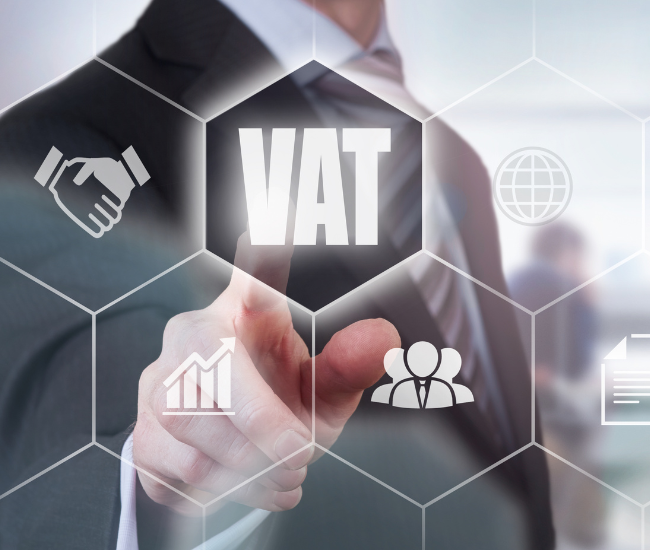 International GST data formatting
SkyNet offers the customers the option to adjust the shipment values to avoid paying VAT on VAT.  It has been proven that many Customers face a problem when required to provide us with the split values of their shipments and products by the Cost of Goods and VAT.
SkyNet has come up with an innovative solution to solve the problem by reducing the Customer's declared values based on the destination country's VAT percentage.  
The Customer simply need to advise SkyNet if their declared values are including the destination country VAT.  We then configure our system to adjust the values and declare the correct cost of goods to the destination customs. 
The solution is presently capable of doing these adjustments for all European Countries and Singapore. It can also help with the VAT reconciliation for IOSS/OVR accounts, as SkyNet can provide a full list of all the shipments SkyNet has declared on the Customer's behalf detailing the declared values and VAT amounts.